Open position at strv
Tech Support Lead
Work schedule

Full-time

Address

Rohanské nábř. 23, 186 00 Praha 8-Karlín, Česko
Which company ordered 150 M1 MAX laptops the week they were released? Where can you play with the latest gadgets? Who's got one of the top offices in Prague? The answer: STRV. If you're a tech enthusiast, consider joining our amazing team and supporting them in developing leading software products! We're looking for a motivated Tech Support Lead who will take over STRV's IT department, reporting directly to the CTO.
Who We Are
First, a bit about us. STRV is a software design and engineering team that delivers next-level products. Here since 2004, we've delivered solutions for partners ranging from startups to enterprises, including Barry's, Microsoft, MedMen, Barnes & Noble, The Athletic, Autodesk and more.
We focus on mobile applications, websites, backend infrastructure, IoT, blockchain and data science/machine learning/AI. The culture is very open and friendly, with everyone on the team self-driven in delivering the highest possible value for clients — because we all care about building partnerships and creating products that make us proud. But you've probably scrolled our web and read about all that already.
How You Fit In
You're a perfect fit for this role if you have at least a few years of experience with IT support. Our IT department is small but powerful — a dynamic duo of the Lead (you?) and one colleague — so we're expecting you to jump straight in.
Having managerial experience is a plus but not mandatory. But you definitely should be eager, willing and able to venture into leadership and managerial duties — as you'll be responsible for the whole department. And if you have some small worries, we have an in-house Leadership Academy that can help you out.
By the way, we're about to open a new office in Brno and one of your first challenges will be to make it all happen smoothly from the IT perspective.
At STRV, Your Role Will Be To
Take responsibility for the whole IT department

Become the owner of all IT at STRV

Take over the IT budget and forecasting
Be a Lead/Manager to your colleague
Provide IT support to everyone at STRV — both SW and HW
Distribute tasks among you and your colleague to make sure they're executed on time
Handle a substantial part of the incoming tasks hands-on
Control access to all company systems for everyone
Manage all software licenses within STRV
Take care of all IT-related purchasing
Work closely with STRV's Information Security Officer to ensure the highest level of security
Respond to and resolve potential incidents
Gradually take over the configuration and management of tools used at STRV, from Confluence to Jira, Github and beyond
Never settle; continuously come up with IT-related improvements and execute them
We Expect You To Have
At least three years of experience with Tech Support
Ability to balance hands-on and organizational work
Willingness to learn
"Never settle" attitude, always pushing the status quo
Advanced communication skills in English are a must, and knowledge of Czech is an asset
Proficiency with macOS, Windows and Linux
Ability to troubleshoot software issues and problems in general
Natural tendency to think outside of the box
International Community
A few things to know: STRV people represent about 26 nationalities, so our official language is English. For people that decide to relocate to the Czech Republic, we're always happy to provide visa sponsorships and relocation support. And as for meeting our US clients, there may be times you'll get to visit them — or you may see them strolling through our Prague office since they're often curious to see the STRV in action and to meet their team in person.
Perks & Benefits
We want you to feel at home. Our benefits help make sure that you remain productive, have all the tools you need, and stay in great shape both mentally and physically. Here's what we offer:
Flexible working hours (option to work from home two days a week)
Five weeks of vacation
MacBook
External display, extra charger and accessories
iPhone or Android phone based on your preference
Phone plan for work and personal use with 30GB of data
3D printer available for all
Fully equipped gym in our Prague office with in-person
Play areas with Xbox, foosball, pool table, ping-pong
Multisport card to access other sports facilities (50% contribution)
Craft coffee, tea, and matcha
Award-winning office, rooftop bar, event space, relaxing zones, BBQ grill
Conferences, meetups, seminars to support personal growth
Themed events, team buildings, parties to cultivate the spirit of STRV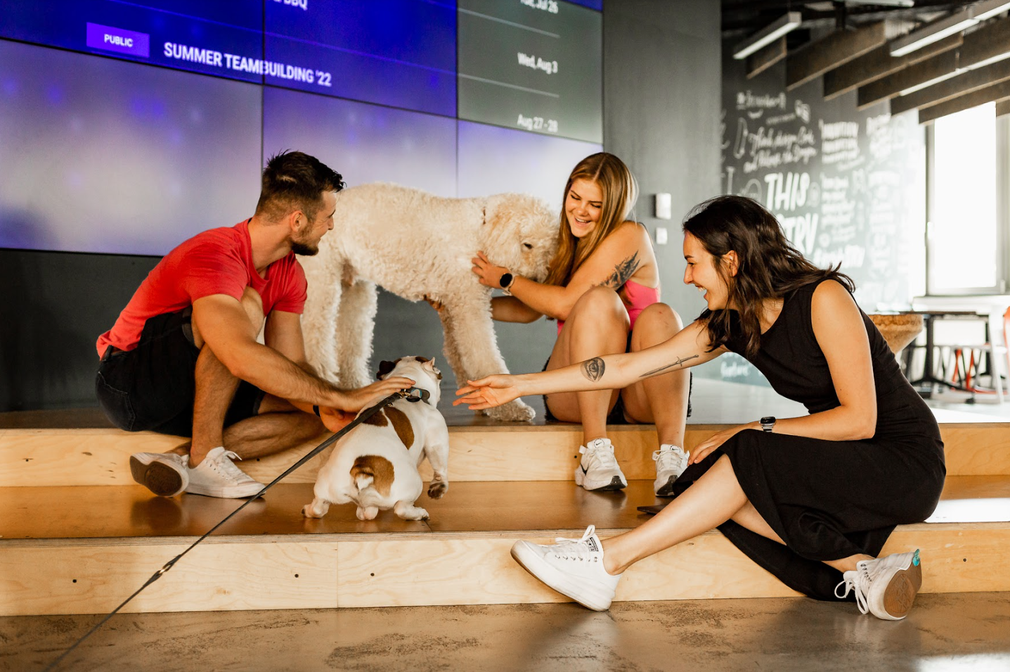 strv v magazínu CULT