Purple Technology
Purple Technology builds, manages and continuously innovates in the sphere of online trading technology. The solutions we offer at Purple Technology cater to the demanding needs FX, CFD and investment brokers. The primary aim of Purple Technology is to develop apps that compliment trading platforms. We enable tens of thousands of traders worldwide to trade many billions of dollars of assets each month. Alongside a technology offering, we provide services in the area of payments, risk management, marketing, HR, consulting and business intelligence. The company was established in 2011, and from the very beginning, the goal has been to build a prosperous business with explicit values and a company culture built around freedom and responsibility. The vision involves innovating financial services and investment products for companies and individuals. Most important of all, our mission is to provide an environment where our colleagues can also prosper personally and professionally.
Markets, people and technologies

The Purple Group was established by Filip Řehoř, David Kašper and Jakub Nytra. Each of them had traded with European and international FX brokers. However, they did not appreciate the way these companies operated. The attitude towards the clients and technology that lacked functionality are what stood out most. The founders decided to explore third-party solutions available to online trading businesses. What was available on the market lacked the comfort they wanted as clients. Throughout the years, they came up with their own solutions, and thus Purple Technology came to existence. The group has become a household name in the industry thanks to their constant improvement, customer-oriented approach and reliable technical support. The people involved and the desire to innovate and modernize the world of finance are the pillars of their business.
Purple technology & purple culture
We chose the colour purple because it represents empathy, playful, cheerful and friendly and thus symbolizes our own approach to business, clients and the company as such. We have our hearts set on a friendly company inside and out, open and fair, responsible and fun. That's Purple.
Our aim is to perceive our customers as individual people who are using technologies we have developed for specific reasons. Our experience says clients appreciate our attitude and it comes as a great surprise that there is a company in this field who is dealing with them in a fair and human way.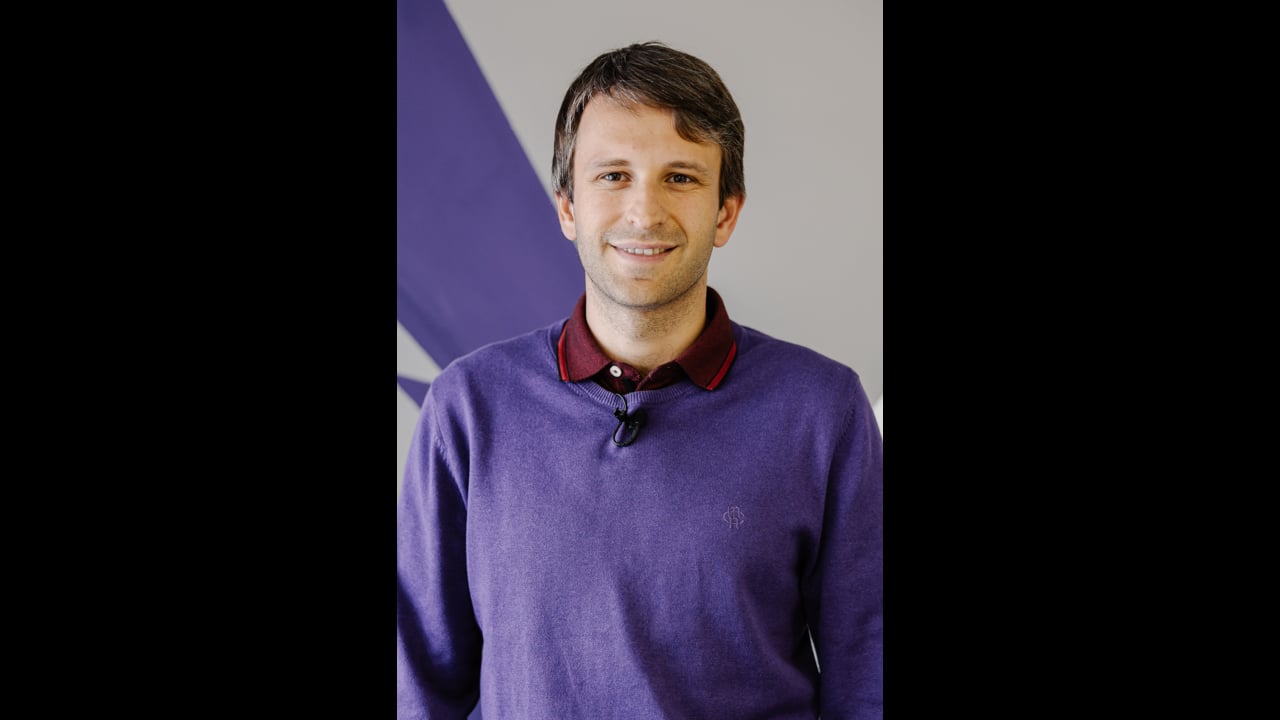 We are changing the status quo of trading on financial markets from the centre of Brno. We are bringing innovations, cooperation, care and fair-play to the table. Our clients are often pleasantly surprised by the way we treat them, as our approach is quite out of the ordinary in this field.
David Kašper, Co-founder of Purple Holding
We are changing the status quo of the world of finance
From the moment we introduced our technologies and services to the Asian market, we have been growing. The growth of the company is consistent according to all metrics, month after month. As our company evolves, many new possibilities and opportunities are being created. We are active in the Asian and European markets and working on entering continents too. We are developing new features, products and service with an aim to enhance our potential and resilience.
It's not just Purple Technology anymore. Purple Holding Group was established, unifying our company with others, such as Purple Trading, our own FX brokerage company. Other companies include Purple Next, our own FinTech incubator, Purple Ventures which invests in fintech businesses with potential. We are also proud of our charity fund, Purple Foundation, which enables us to help those in need. Collectively, we are Purple Team; a group of people who share the same values and attitude towards business.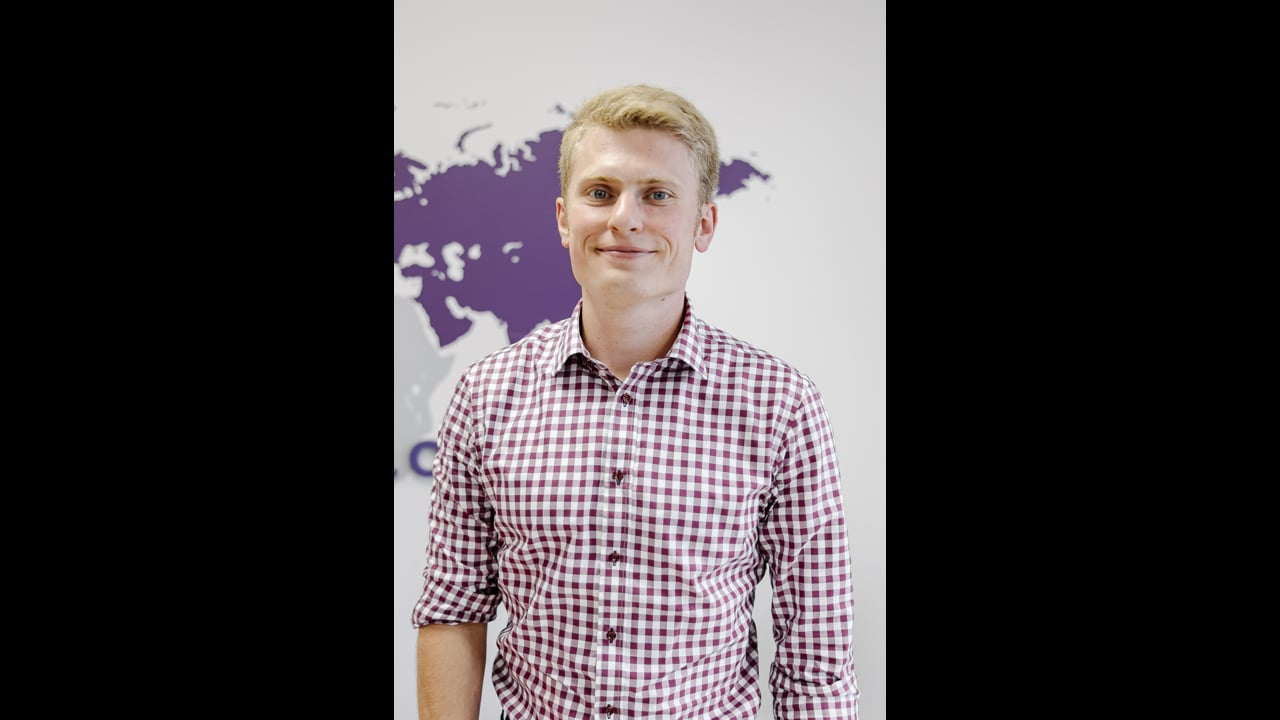 Before we entered the Asian market, there was a time when we didn't have too much to do. I decided back then to learn some new technologies and suggest upgrading the current system. It was an amazing self-evolving experience for me, and we made great use of it when entering the Asian market.
Purple Technology
We are happily located in our offices in the centre of Brno, around the corner from Zelní trh. The office is equipped with our own sauna and gym. Once a year we all pack our bags and work together from a rented villa at the seaside.
Work the way you wanna live
We do business to live well. Our goal is not to make a short-term, quick profit. We want to build a sustainable, quality company where everyone feels good and won't find a reason to leave. Our company is our second family, and we love to come back every day.
That is maybe why our approach towards everything we do, our customers, employees and innovations, is different from other FinTech companies. We honor humility and never forget the fact that we have established this company because we didn't like the practices of similar firms. All of us naturally respect each other, it doesn't matter if you are the company owner, co-owner, or a recent newcomer. We are all equal and appreciate one another.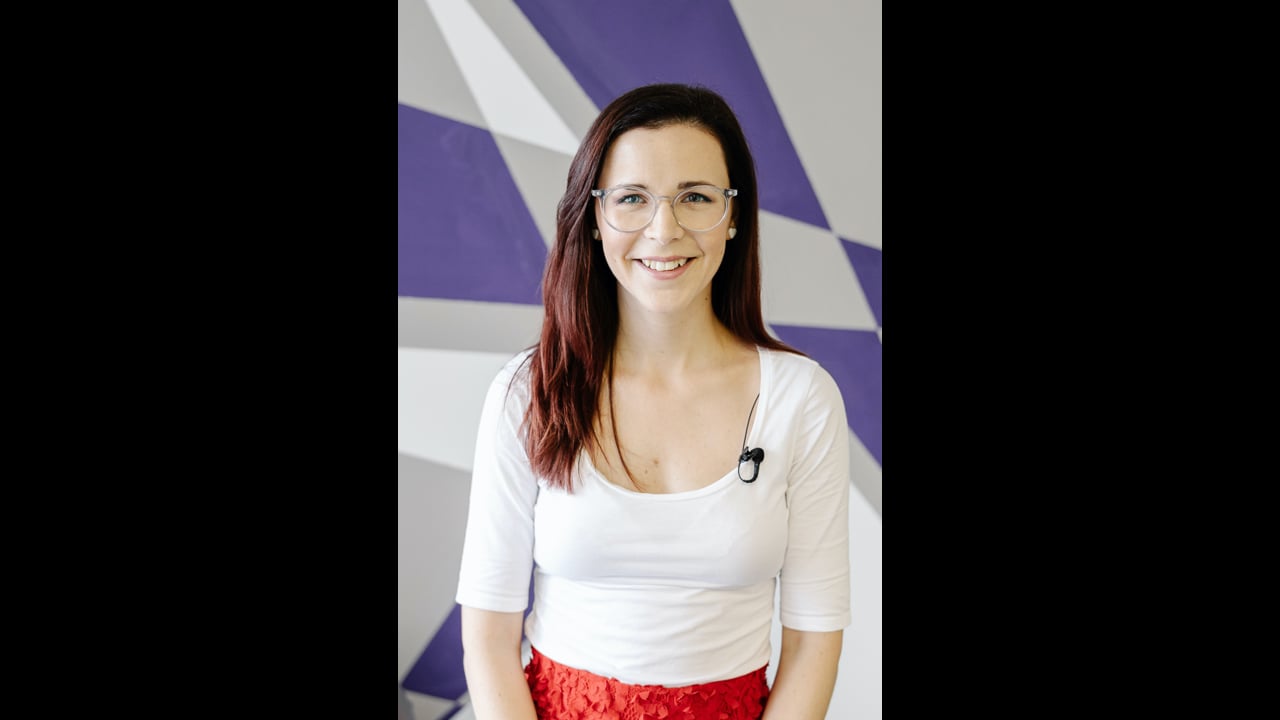 Anywhere office
Our company culture is spontaneous. Our greatest benefit is flexibility. Anywhere office, remote office, home office – we have merged all these buzzwords into one sentence: work from anywhere and anytime, you know what your tasks are, and it is up to you to complete them on time. If your position doesn't require so, it is not necessary for you to sit in the office, if your workplace of choice is a café or a park. That's why we attract people who prefer spontaneity. You can always hear the buzz, laughter and hustle at our offices. There is never a dull moment. What you won't find here are punch cards, ties, or useless rules, although some rules do need to be enforced, to keep everyone safe and the company secure. We always try to establish them carefully and naturally. Friends, colleagues from around the world, sense of humour and workload that you can customize according to your needs – these are just some of the great things you can find here.
Enjoy freedom, exercise responsibility
We give people total freedom and expect responsibility in return
If your presence isn't necessary during office hours, we don't care where, how and when you work. We are interested in your performance, results and enthusiasm. Trust is reciprocal, which inspires us to do our best. Everyone participates in the development and direction of the company. If you have an idea that makes sense for everyone, go ahead and make it happen. Every position and task is essential. It's an amazing feeling to know that we care about every individual's opinion.
This might all look like a fun and carefree world, but our successes were built by hard work. We have been through thick and thin, but we always managed to roll up our sleeves and look for solutions without any excuses. Adrenalin and unpredictable backsets are a part of what we do. Responsibility, cooperation and flexibility, however, had always helped us grow and saved us in the moments when our future didn't look too bright. This is why we try to learn from our mistakes, work on ourselves and improve whenever possible.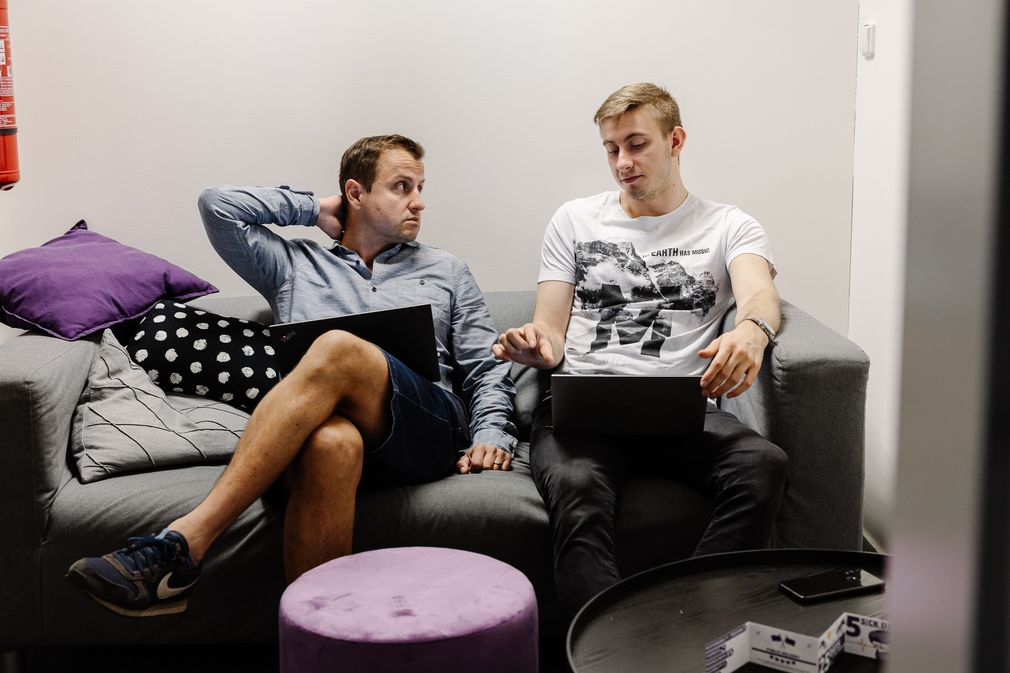 Work and travel
Many of us in Purple Technology love to travel, be it travels for work or for pleasure. If your position allows you to, there is no reason you should restrict yourself to vacation-only travels, thanks to the internet being everywhere these days. Our work is online. We communicate with our clients worldwide and build technology without borders, and that's why our work doesn't have borders either. Just take your laptop and go wherever your heart takes you!
Are you enthusiastic about your job and looking for freedom in your company? Would you prefer working with friends, rather than colleagues? Are you keen on technology, Asia and good food? Let us know - we might be just the right company for you!
At the time I started working in Purple Technology, I was reading a couple of books on companies who offer freedom at work, but hadn't thought for a second that something like this might exist in the Czech Republic. It's unbelievable but true. This company realizes that when people grow, the company grows with them. The human potential is viewed as a key value.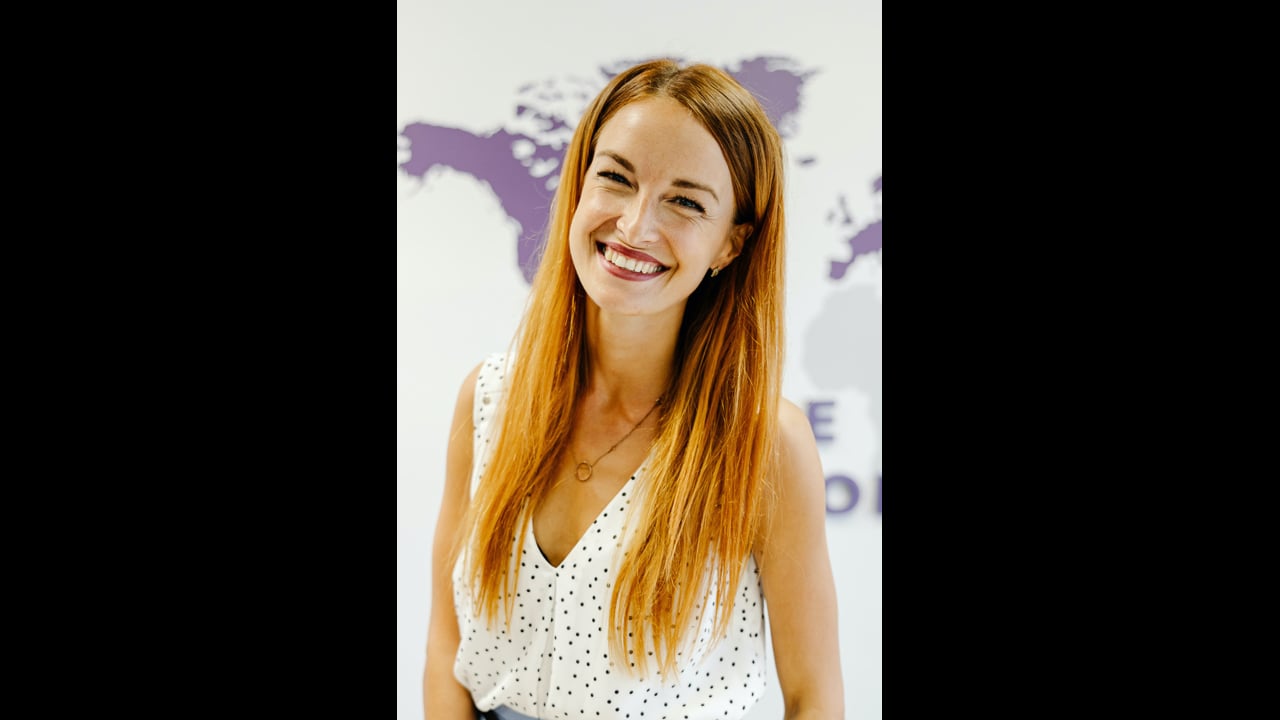 Friendliness
human, humble, together, fun, supportive, willing to teach, understanding
Fair-play
open-minded, transparent, honest, ethical, fair, socially responsible
Drive
energetic, proactive, persistent, self-developing, goal-oriented, reliable, professional
Freedom and Responsibility
individual, equal, responsible, trustworthy, diverse
Flexibility
innovative, simple, modern, agile, systematic, efficient, savvy
I can't imagine leaving. I'll probably be here in ten years, because there are an incredible number of options, where I can move if I don't like what I'm doing now.
Business must be a game, otherwise it's not worth it
We see business as a game in which we are improving, gaining more and more experience and rising to higher levels. Each level comes with new obstacles and experience. We play the game because we enjoy it. Our business is not a one-person shooter, but a board game we are playing altogether, often online from different parts of the world. We don't live our real lives only after the work is done. On the contrary, our work is a quality part of our lives. This is exactly why we have our own gym, sauna, a terrace with a BBQ and a fully functional kitchen. If you are tired, feel free to take a nap in our Nap room and get down to work again when your energy level is higher.
Our teams matter
For us, team building is not organized, awkward and mandatory events. We are fond of each other and naturally like to hang out together both at work and outside of it. There are tons of activities we do together, and anyone who wishes to is more than welcome to join. We often spend weekends together. Once a year we pack our laptops, and the whole company leaves to work for a week to Croatia or Cyprus. We work together, we exercise together, every Thursday we have our Tabata sessions, we go to cabins together, party together, play paintball or organize kart tournaments.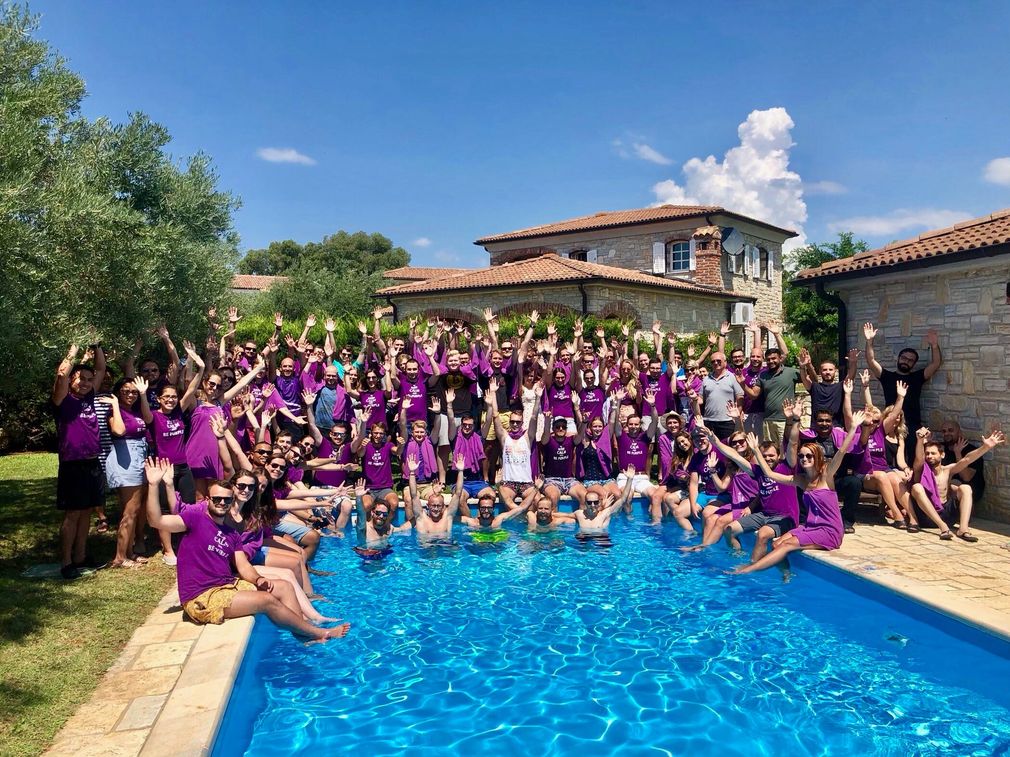 Opportunities at Purple Technology