Tekies
Tekies brings technological innovation to the world of big business. It helps its clients migrate to modern IT architecture, implement microservices, or develop custom software. Thanks to its well-knit teams of experts and excellent results, it is constantly growing and winning long-term contracts for several years to come. This creates a stable environment characterized by great openness, freedom, and interest in people and their continuous growth. Tekies prides itself on connecting the world of top and experienced professionals with the world of young talented students or graduates who can learn very quickly. The result is continuous growth and development for every member of the team. Through its activities, Tekies supports its sister company DNAi, which helps to apply the latest research and development in the field of artificial intelligence in companies.
Helping companies successfully navigate the digital transformation
We choose customers who want to carry out projects at the highest level
Our task is to ultimately innovate the IT architecture for the client and design a technology stack that enables the implementation of modern tools, microservices, or the use of artificial intelligence elements.
In a typical project, we combine project management, commissioning of new infrastructure, and advanced customized software development. We are characterized by a hands-on approach, where we are part of the client's teams and work closely with them throughout the project.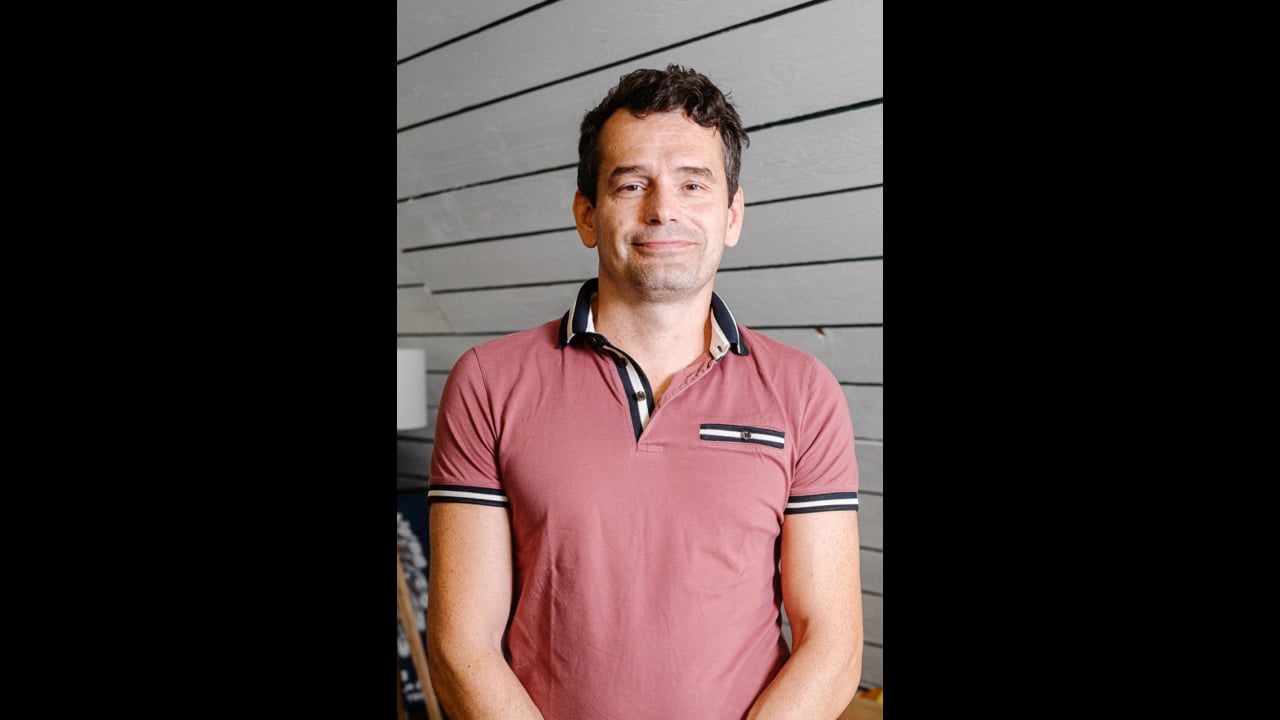 We operate in stable industries offering very interesting technological challenges
We enjoy challenging assignments
We target clients from the energy, banking, and government sectors for whom we carry out large projects lasting several years. This gives us access to technically exciting assignments that move us forward. We can apply many new technologies in advanced environments with a huge number of users. For example, we are currently working on an application that approximately one million end clients will use. Our task was not only to design the entire IT infrastructure but also to execute the various stages of development. Working with large companies combines stability with the speed and mindset of startups.

We have projects for four years ahead and that's a big mental security for people. It's not like going into a start-up where you don't know if it's going to work in a month.
We care about the result we leave behind
Since our foundation, we have been acquiring new projects exclusively through positive references from existing clients, or these clients entrust us with more and more projects. We have quickly grown from two people to over a hundred experts. We know from feedback that we do a perfect job, and clients appreciate our approach to delivering everything we promised on time. We are proud of what we have managed to build together.
Our goal is that our qualities are not only perceived by existing customers but are heard throughout the market.
A head start thanks to the experience of our people
Our unique concentration of top professionals enables us to carry out projects on a vast scale. We have experts with 20-30 years of experience from all over the world, digital architects with a track record of excellent results, and know how to manage projects worth hundreds of millions. We also have people who have successfully built startups or taught at universities. This is important not only for the client but also for the young people who join us. This allows them to develop and grow exceptionally quickly professionally. We are a culture open to professionals with experience and young people on the cusp of a career.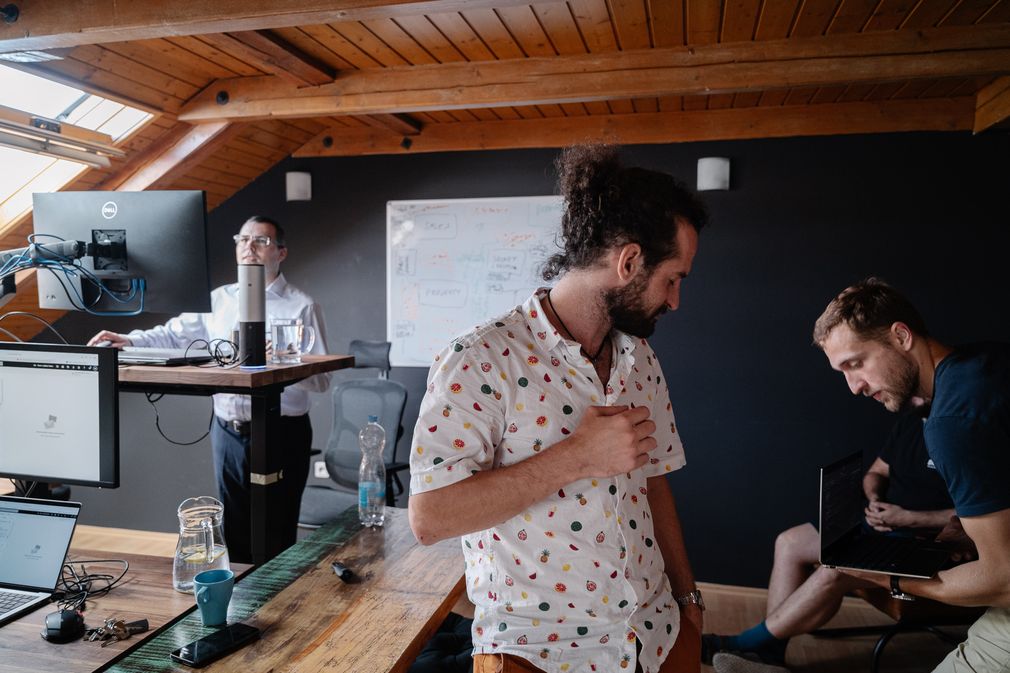 The inseparable duo Tekies and DNAi
We invest Tekies' profits in our sister company DNAi. We are creating a collaborative ecosystem in which DNAi researches and develops AI-based products that scale globally. Tekies covers the infrastructure and architecture of the entire environment. Whenever one of us at Tekies finishes a client project and hasn't started a new one yet, or wants to take a break from client projects for a while, they can move into product development or an internal project at DNAi. Some of us have been with both companies for a long time and can combine the best of these worlds. It's a great inspiration to be on high-tech projects at DNAi and gain unique experience.

We see our clients' projects as our own
In our industry, it's not enough to know how to do things technically correctly. In the projects we undertake, we are not in the position of code maintainers but are responsible for the entire digital transformation. And it's up to us to find the right solution for the client. This is often different from what they initially imagined because we redefine the whole process. Arguments like "the client wanted it this way" are not appropriate for us. We have to be able to coexist effectively in disparate teams or companies and work, communicate and explain precisely until we can justify the proposed solution.
We want to do the work so we can be proud of it. This is the aspect that clients appreciate most about us and the element that we build a lot of trust with them.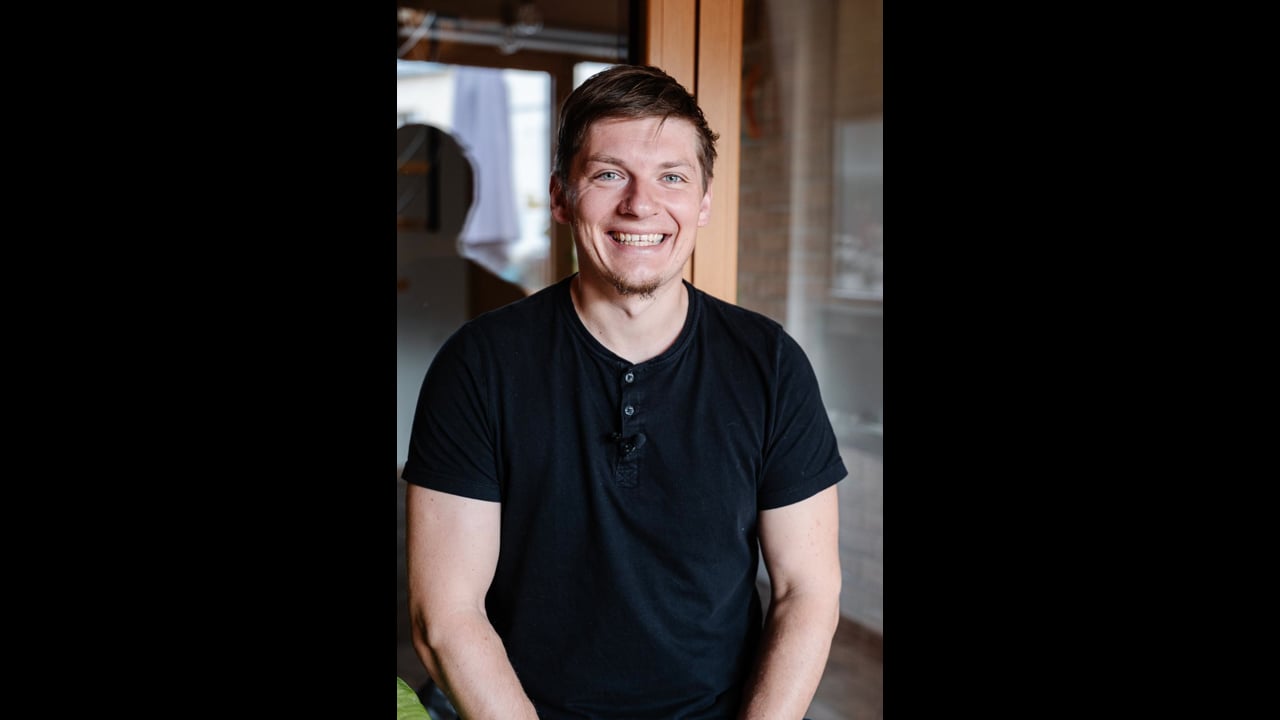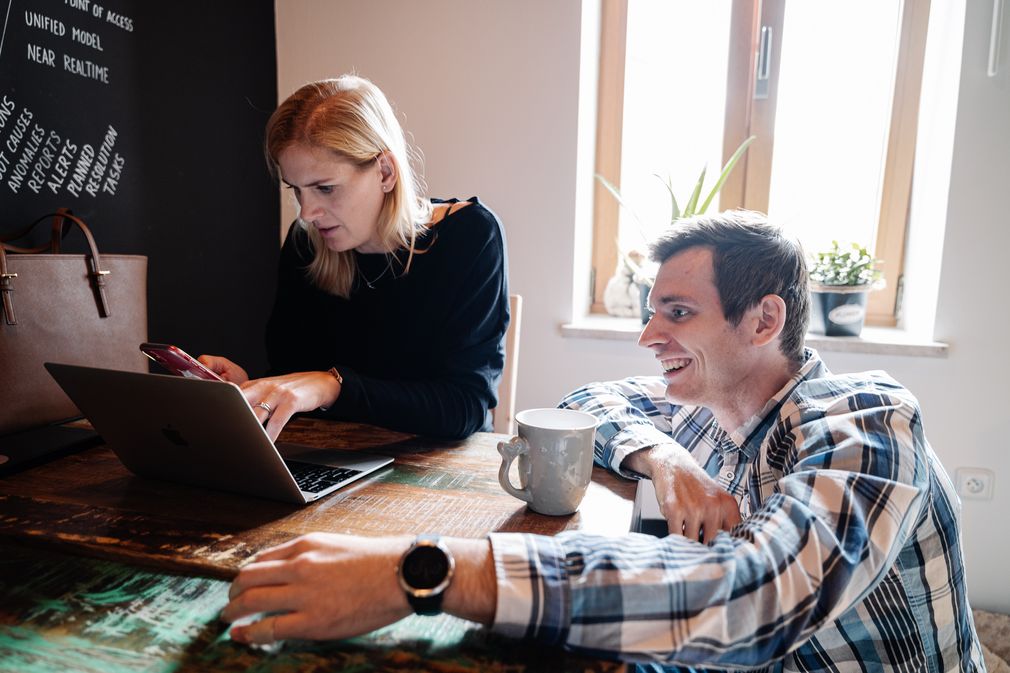 We have a freelancer mentality
We are characterized by professionalism, autonomy, high expertise and continuous education
We just like freedom.
And in return, we take full responsibility for our work. We communicate quickly, know how to get along under any circumstances, and can be counted on! We do the job to the best of our ability, without compromise or shortcuts. We have an excellent track record because we benefit from our experience and continually develop our expertise rather than keeping it to ourselves. We mentor younger colleagues. We help them not to repeat our mistakes, to move with us, and to be able to function well in a free team with a high level of self-responsibility.
In Tekies, you don't have to bend your personality. Instead, your personality fits into the bigger picture. They look for opportunities that fit you.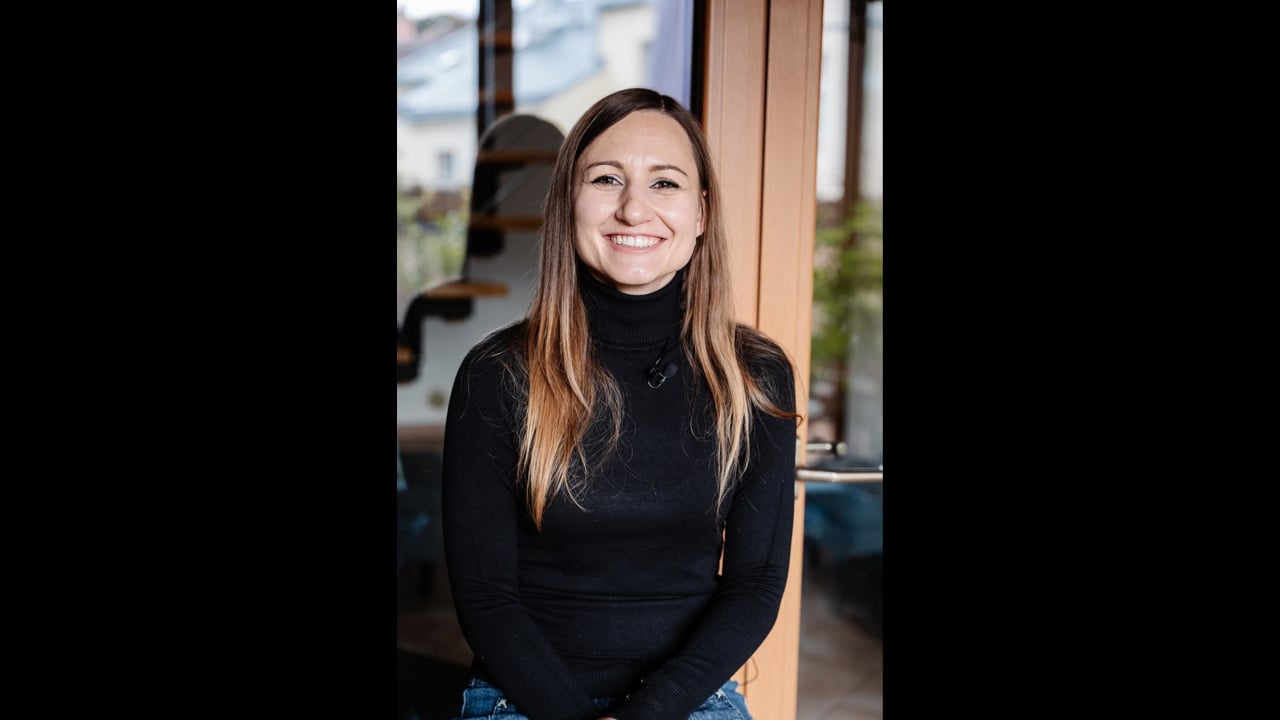 We care about you having a good time at work
We take a very personal approach to everyone and consider their experience and needs. Together we will select a project where you can apply your know-how and develop further. If you feel the need to change the project, get in touch, and we will discuss the possibilities.
Most of us work directly with the client, and the work style is based on the client's style. That's why we rely on you to be proactive and not wait for us to ask when you're uncomfortable with something. Tekies is what you make it. The initiative is in your hands.
Trust in people opens up opportunities for collaboration that would not otherwise be possible
We can arrange part-time, non-traditional hours or a longer study break. As long as you deliver reliable results and it's okay from the client's perspective or the project you're working on, just about anything is possible. We don't have to be bound by processes or regulations when mutual trust works and we can rely on you.
It is important to be able to say what I expect from the project and what I want or don't want from the work in general. To be clear about what works for me and what doesn't.
People who like diversity. There's something new every day in here.
A person who is open to working with different people. A person who doesn't have too big ego and is able to back down when someone else makes a decision. He is a team player and doesn't try to go solo.
You have to be reliable. When you agree on something, you have to follow through and communicate it quickly.
Independence, reliability and definitely need to be proactive. You need to try hard and not expect to get everything on a golden plate or have someone do everything for you.
The ideal is a flexible person who can accept change. Tekies is a very ad-hoc environment. It's not for the person who expects routine and to be served everything. Must not be afraid of challenges and the unknown.
In Tekies, you can set up the environment to suit you, you just have to be proactive. It's not an environment where people are coddled or pampered.
We want to do projects really well and we care about it. I am very precise and I want everything to be perfect in my work.
A person who doesn't like one-off solutions in the style of let's make it work somehow. It has to be a person who enjoys finding the optimal solution. One that's sustainable and doesn't have to be redone in a while.
Continuous learning by sharing know-how
Soft skills at a high level
Whether it's managing a team, developing relationships with colleagues, communicating effectively and openly, or adapting to unfamiliar environments, soft skills are one of the essential factors in our success. We take great care to ensure that everyone is highly independent, reliable, proactive, knows what they are good at work, and can ask for it. You can't do that straight away. They don't teach initiative at school, so we encourage the development of those skills. We have coaches and mentors we can call on as needed.
For a long time, our approach to education has been based on the principle of learning by doing. We are now at a stage where we have the space to complement this with additional learning activities to spark a mutual exchange of experience across teams working independently with different clients. We have started organizing internal events and meetups where we share project experiences or discuss new technologies. We are building an intranet to see who has what expertise and what projects they are working on in one place. We can quickly connect and consult. We go to a joint offsite where we address strategic issues and joint alignment. The mutual exchange of know-how is the most effective way of development, which helps us to keep our standards high.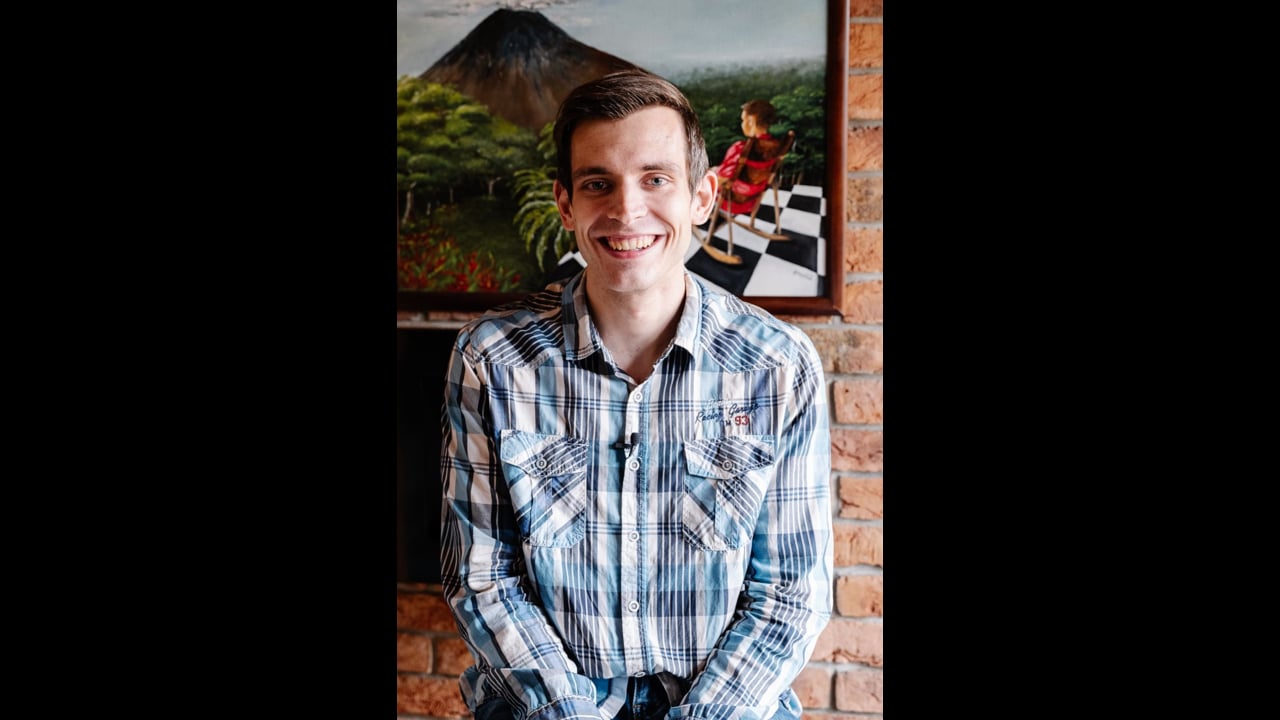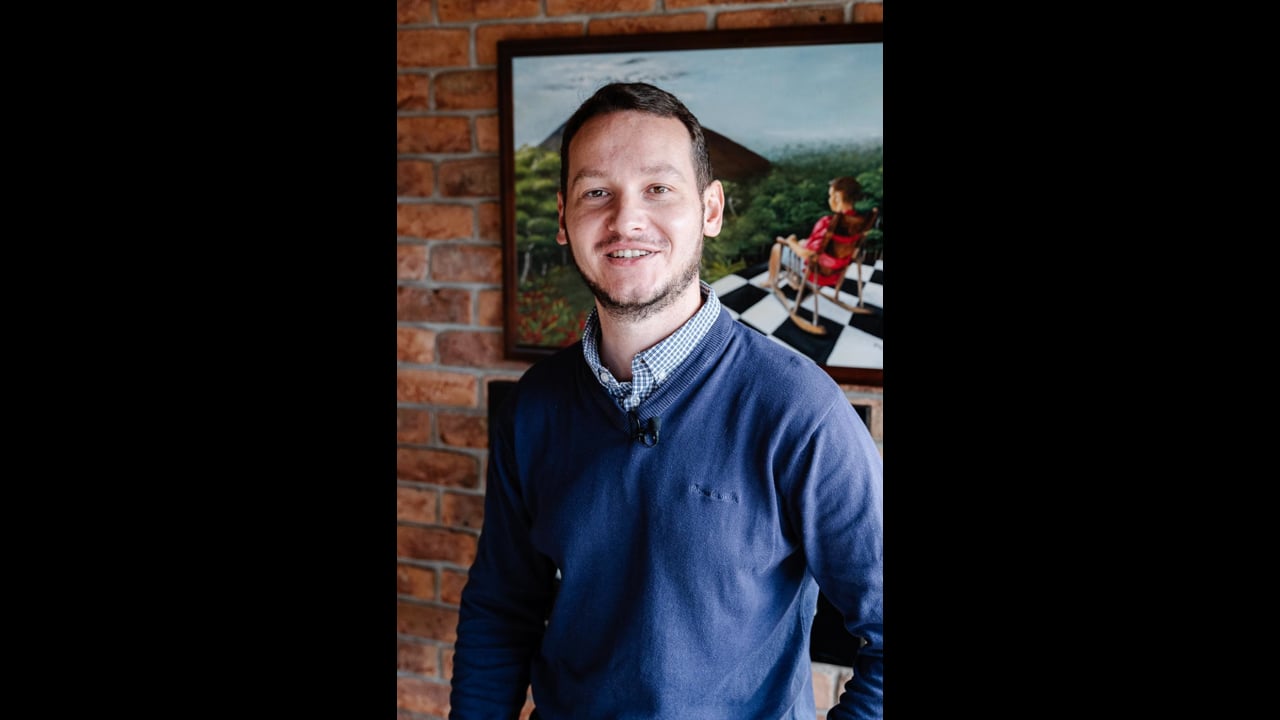 I started as a junior and there are a lot of seniors around me who show me what to do and how to do it. Compared to what I see at school, this is a huge project where I feel a lot of potential to grow.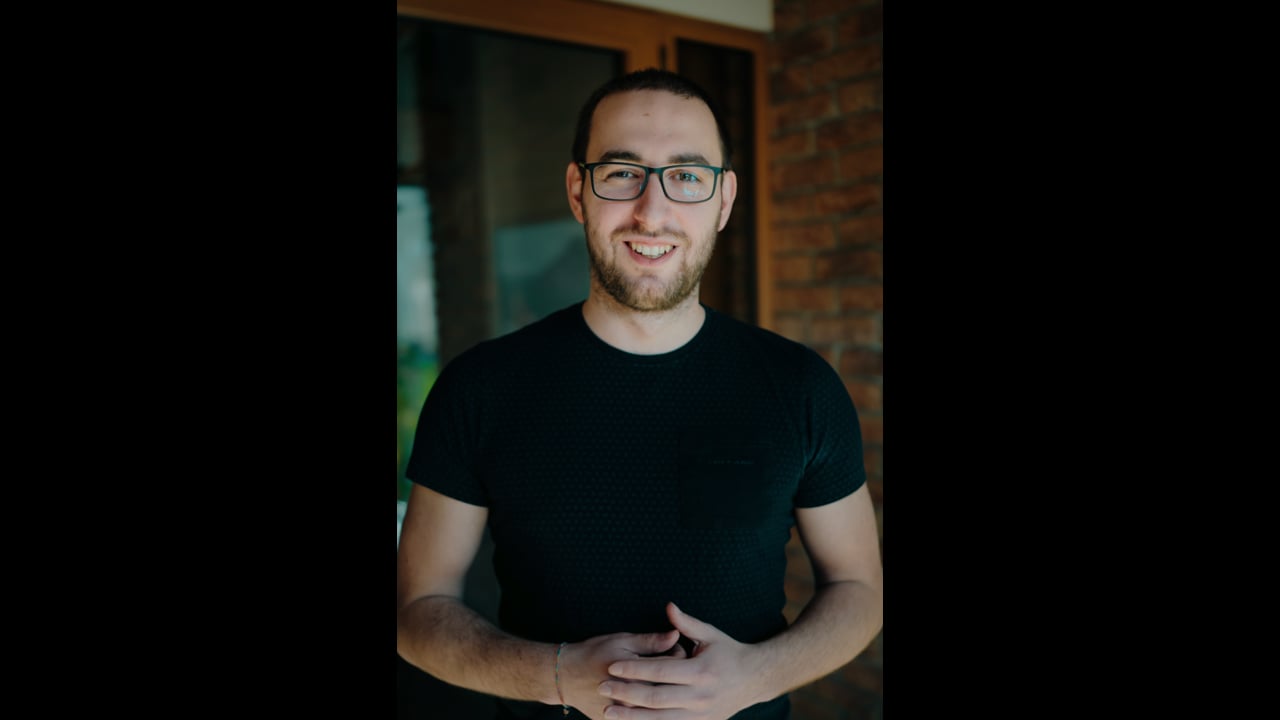 Helping students and graduates grow
A lot of us began our journey at Tekies during our school days or immediately after graduating. Looking back, we now realize that we couldn't have asked for a better start to our professional lives. At Tekies, we hold great respect for students and graduates right from the get-go, valuing their abilities and treating them as equal members of the team. While we don't anticipate them to have a wealth of experience, we do recognize their immense potential and eagerness to learn. With that, they can rapidly gain knowledge on how to work on large-scale software projects, collaborate efficiently within a development team, and acquire everything they need to excel. Even though they carry a lot of confidence, they also carry substantial responsibility. We understand that every individual's journey is unique, and hence everyone is responsible for their own personal and professional development.
Development through real projects
If you're brand new to the team, don't worry! We have a mentoring program designed to quickly bring you up to speed on your first project and get you acquainted with the essential tools. As you begin to feel more comfortable, we'll transition to a "learning by doing" approach, where you'll have the chance to collaborate with a seasoned colleague on simpler tasks. We don't expect you to be perfect or as efficient as an experienced developer right away. Take your time to study the subject matter and complete the tasks to the best of your abilities. For us, the most critical aspect is that you continuously strive to improve, seek out information, and ask for assistance when necessary.
There are such cool people here that you can count on, and they'll never knock over anyone's chair. They're great at what they do and they're not extremely competitive.
Tekies Prague
Most of us work remotely, but our shared facilities with our sister company DNAi are excellent. It's offices in a cozy loft apartment in Smichov. We mostly meet in them only occasionally when working on an internal project or other events, but we love going there. Smíchov is full of great places to go for a drink.